NETdepot + Cohesity Happy Hour
Atlanta - April 21st, 2022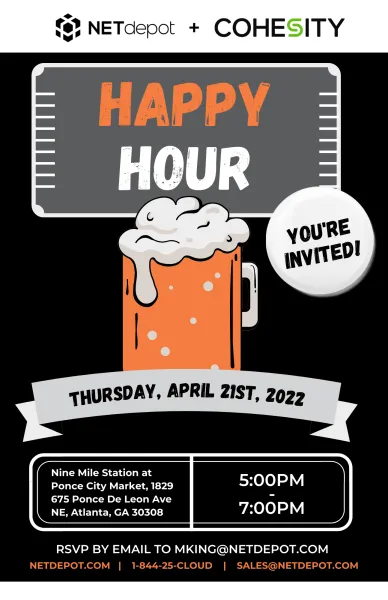 NETdepot + Cohesity Atlanta Rooftop Happy Hour
You're invited for an evening of networking with the cybersecurity and data management experts at NETdepot and Cohesity atop the Nine Mile Station rooftop patio, with a magnificent view of the Atlanta skyline!
When: Thursday, April 21st, 5 PM-7 PM EST
Where: Ponce City Market, 1829, 675 Ponce De Leon Ave NE, Atlanta, GA 30308
Save Your Seat for April 21st, 2022, and learn how NETdepot provides a customized solution with proven expertise to help you achieve your technology goals.
Food and beverages will be provided. Limited space is available. Registration is required for entry to this event. Reserve your spot today. We look forward to seeing you!
Sign up for our Happy Hour Below!