Protect Your Customer's Data with Top-Line Technology
Cybersecurity and Cloud Services for the Automotive Industry
Upcoming Auto Industry Changes You Can't Afford to Ignore
By December 9th, 2022, your company will have to comply with the new Federal Trade Commission Safeguards Rules affecting how auto dealerships securely store client information. These new rules will affect all auto dealers, regardless of size or location.
NETdepot is committed to helping you navigate these changes, and we want to help you understand exactly what the new guidelines will mean for your business. NETdepot has a dedicated team of consultants ready to help work through your individual challenges.
Advanced cybersecurity measures to take your company to a proactive security approach.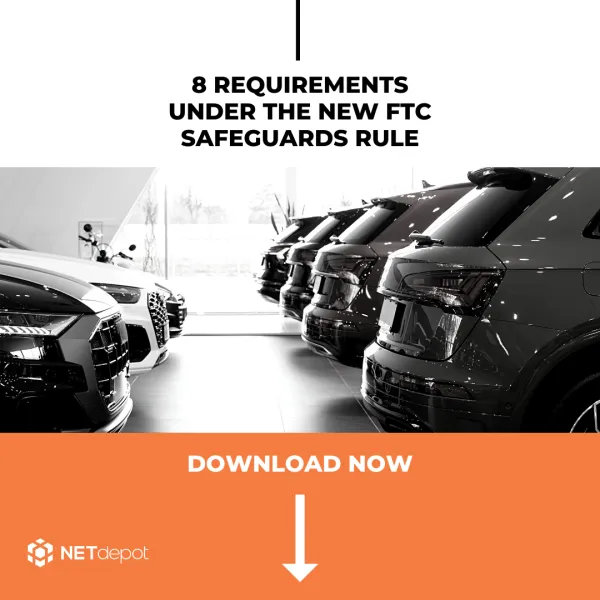 How to Keep Your Business Compliant with the New FTC Safeguards Rule
The FTC has developed new guidelines affecting the automotive industry, which must be adhered to no later than December 9th, 2022.
Download our Guide to the 8 New FTC Safeguards Rules to understand what measures you need to take to protect your clients and keep your dealership from getting fined.
NETdepot is your top choice for state-of-the-art technology support that provides the security you need without pushing hard sales tactics or unnecessary technology investments.